Lieutenant General John A toolan Jr
Commander, United States Marine Corps Forces Pacific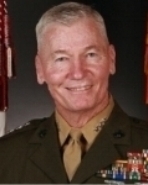 Lieutenant General John A. Toolan Jr served 40 years of honorable and highly accomplished service with the United States Marine Corps, commencing as an Infantry Officer with 1st Battalion, 9th Marines in Okinawa and culminating as the Commanding General for the Marine Corps Forces Pacific—a diverse organization of 83,000 postured to respond immediately to any crisis across the Asia-Pacific region. His second assignment came as a three year tour at Marine Corps Recruiting Depot San Diego California—where he met his bride of 37 years, Helen. He was subsequently re-assigned as a Company Commander with 2nd Battalion, 7th Marines.
Lieutenant General Toolan served as the Marine Officer Instructor at the University of Pennsylvania from 1984 to 1987. He was then transferred to the II Marine Expeditionary Force in Camp Lejeune as the Staff Secretary and then to 2nd Light Armored Infantry Battalion as Operations Officer and Executive Officer from 1987 to1991. Operations DESERT SHIELD and DESERT STORM highlighted his tour with the Carolina Marine Air Group Task Force and was followed by Manpower Officer Assignments until 1994 when he was selected for command of 3rd Light Armored Reconnaissance Battalion (also known as 'Wolfpack'), in Twentynine Palms from 1994 to 1997.
Following battalion command, Lieutenant General Toolan attended Air Force War College in Montgomery, Alabama, and was subsequently assigned as the Deputy Joint Planning Officer at Supreme Allied Headquarters, Mons, Belgium where Operation ALLIED FORCE in support of Bosnia and Kosovo consumed his attention during his European tour. From 2000 to 2002 he commanded Weapons and Field Training Battalion in Camp Pendleton and then joined the 1st Marine Division as the Operations Officer for deployment on Operation IRAQI FREEDOM. In March 2003, Lieutenant General Toolan took command of Regimental Combat Team 1 and led the team in the march up to Baghdad. His combat team returned to Al Anbar Province, Iraq for Operation IRAQI FREEDOM II in 2004. Following regimental command, he was assigned as the Director of the Marine Corps Command and Staff College in Quantico, Virginia.
Promoted to Brigadier General in 2006, he was assigned as the Principal Director for Asia/Pacific Affairs, Office of the Under Secretary of Defense for Policy in Washington, DC with follow on assignment as Deputy Commander, United States Forces Japan from 2008 to 2010. He was promoted to Major General in 2009. In July 2010, Lieutenant General Toolan was assigned as the Commander of the 2D Marine Division. In March 2011, he deployed as the Commanding General, II Marine Expeditionary Force (Forward) to Helmand Province, Afghanistan in the role of Commander, Regional Command (South West) until March 2012. In September 2012, Lieutenant General Toolan was promoted to his current rank and assumed command of the I Marine Expeditionary Force. Lieutenant General Toolan assumed command of Marine Forces, Pacific in August of 2014 and will retire in August 2016 with 40 years of honorable and highly accomplished service.